Soon we crossed the Tropic of Capricorn and made it to the town of Baquedano. We were well inland at this point. the town was an outpost for miners and workers who toil in the mines and industries that work the region. I had eyeballed a route that I wanted to try that basically made a large loop inland across the Atacama in the general direction of San Pedro de Atacama. It was on a road that was made from crushed salt. Remarkably smooth. The only other vehicles that we saw out here were the tanker trucks that serviced the mines with water. We were going to cross right through the heart of the Salar de Atacama, a great salt flat in the heart of the desert.
Stopping to enjoy the view. The mountains in the distance comprise the border of Chile, Argentina, and Bolivia. We were very close, if we had a few more days we would have definately headed to Bolivia. There was some uprisings going on the week we were there and it would have been interesting.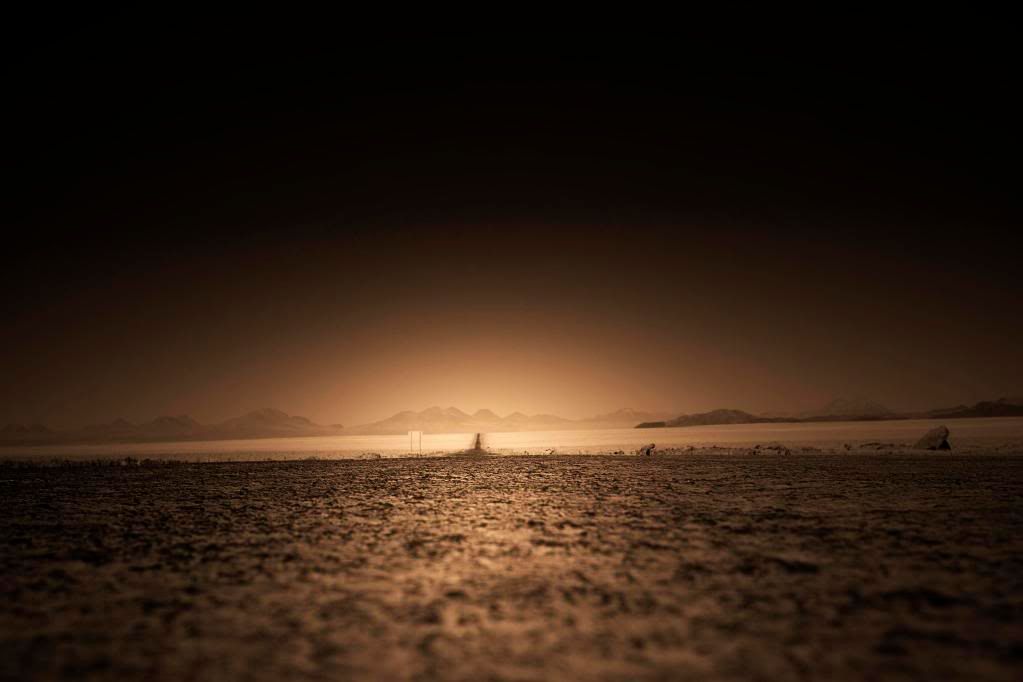 Another shot on the salt flats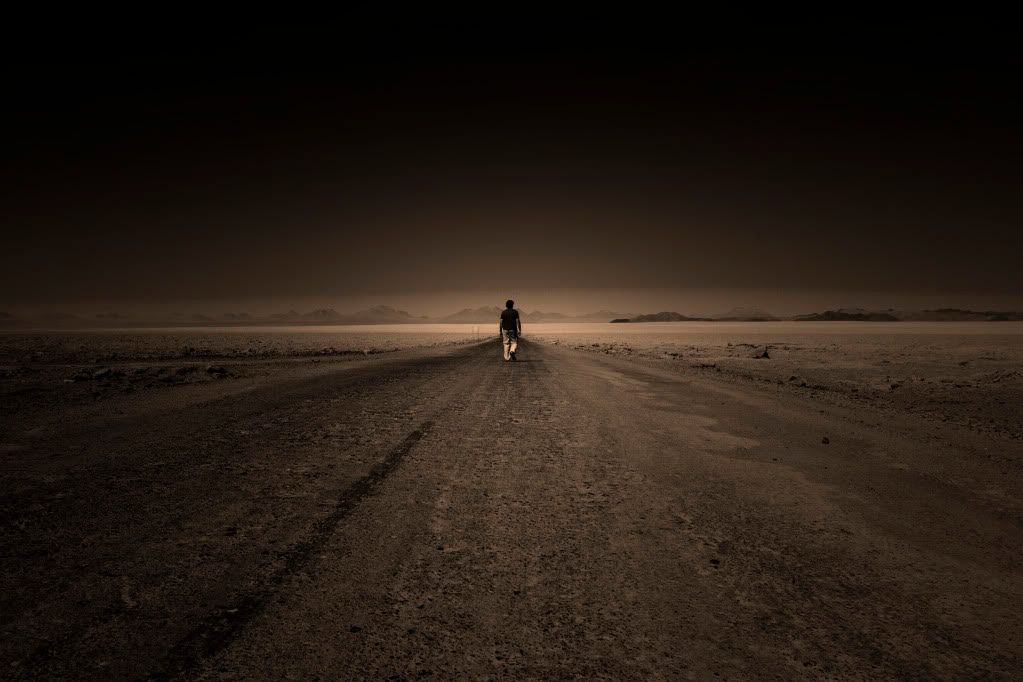 Shot of myself
Still rolling east
Our only map was a rather lousy Avis rental car map that we were navigating with. I was trying to get us to a town on the map called Peine. We ended up taking a wrong turn at an intersection in the middle of nowhere, with no signage of course. We continued down a toad that got worse and worse till it became a rough two track, then really vanished and would reapearr every quarter mile or so. Afer proceeding along for quite some time we saw a drilling rig in the distance. I convinced Shaun it would be a GOOD idea to aske for some directions. haha Well as we pulled up I could see the rig workers peering out from behind the drilling platform. They sent over the tallest Chilean I'd ever seen, long wavey hair with a sharks tooth necklace around his neck. I was a bit nervous. We looked like we just came from another planet. Shaun with his gold sun glasses, red hair, pink t shirt and flip flops, and me in not entirely different apparel. We definately looked out of place. haha Well, it turns out that the guy spoke PERFECT english which was good because I was exhausted, and when I'm tired, my bad English is well... worse. His name was Alejandro. He was born in Chile but studied in Miami before returnig to Santiago to work as a geologist. He thought it was pretty hysterical to hae two gringos roll up on him literally out in the middle of nowhere like that. We showed him our map which was even more entertaining. We were quite a ways off course. He gave us some landmarks to look for since the road/routes were unlabeled. We have him a couple of Coronas for which he was VERY thankful for and head on our ways again, in the proper direction.
We came across a cool little oasis with a stream and even trees! Wow it was nice to see some sort of vegetation. Apparently some goat/sheep herders lived here as there were some random, small stone shelters strewn about. We explored this little settlement before moving on.
Me scouting a section of the trail where it was quite rugged. The Luv did great though as it had plenty of clearance which was helpfull. In the background you can make out some of the small stone houses.
We made it to Peine which really was a small town. We didn't see any other cars, just some people on horses. People came out of their front doors as we drove through the village, looking very curious.
At this point with our fuel situation, we had to head back west in order to not risk a fuel crisis. Peine had no fuel, the closest fuel was San Pedro and that was a good haul north. Back across the salt flats again, this time on a more direct route!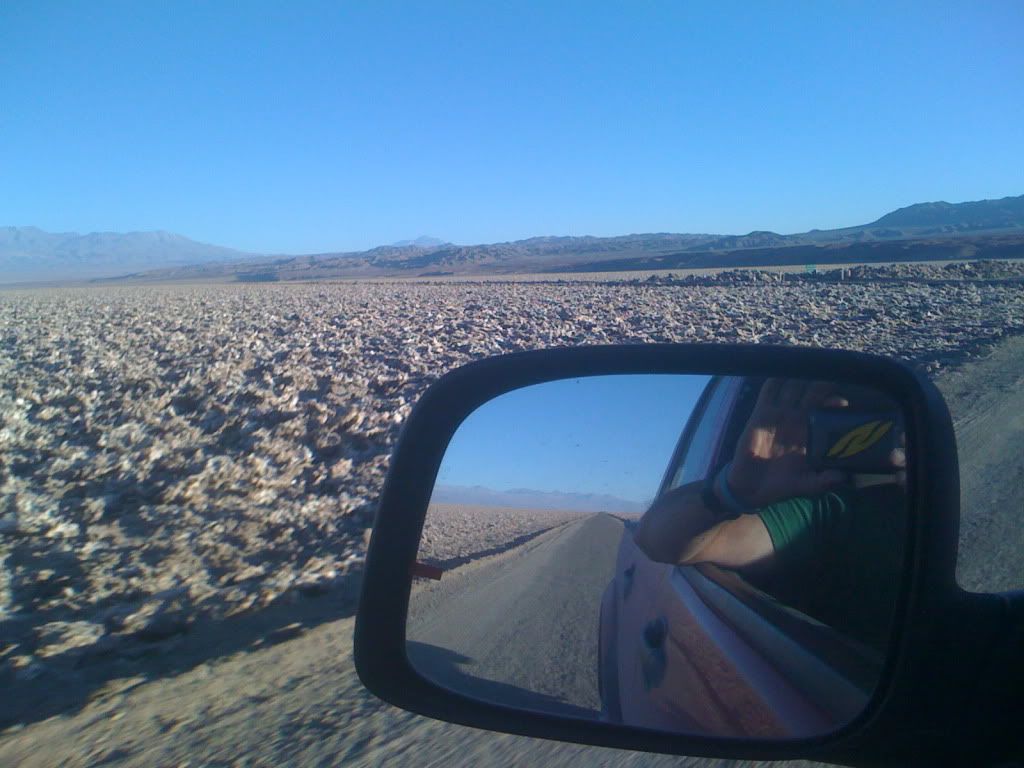 some areas of the salt flats had such an amazing surface to them
We ended up driving all the way back to Antofaghasta which was pretty late. The Luv racked up 450 miles on one tank of fuel alone that day. Pretty impressive! We splurged in Antofoghasta and got a hotel room at a Holiday Inn of all places, right on the beach. A shower was so nice and sleeping in a bed, not a Chevy Luv with all of my ski clothes on seemed like an impossible luxury!
The next day we began our trip back south to Santiago. To give you an idea of the distance, to drive nonstop on the Pan American highway, it is a good 16 hours minimum.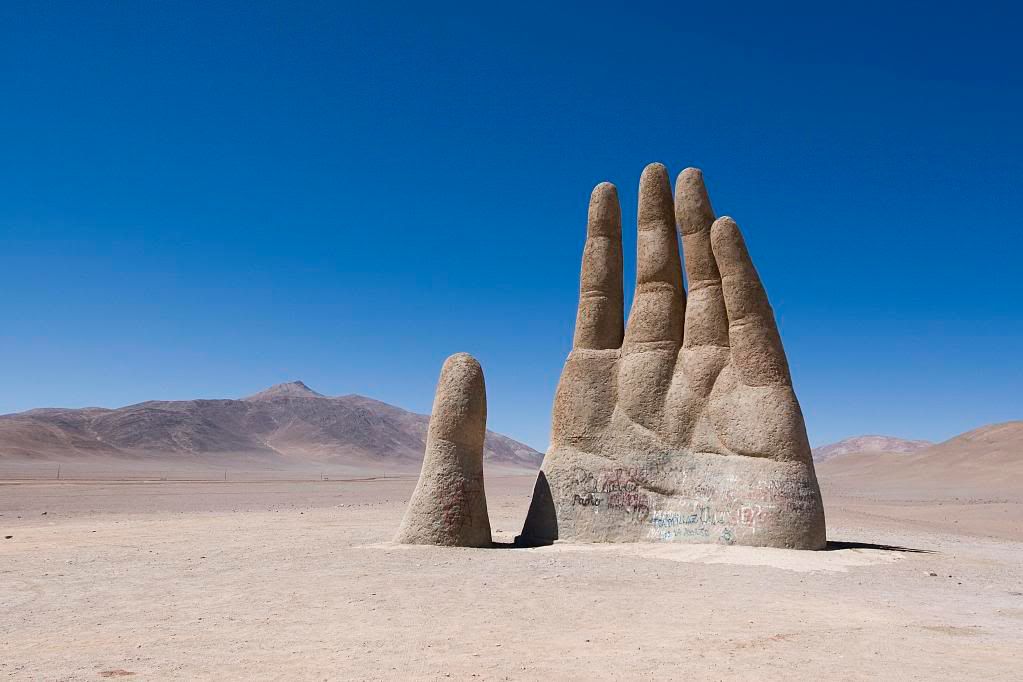 No trip through the Atacama is complete without a stop at El Mano del Desierto (hand of the desert) Located off of Ruta 5 it is a pretty stunning sculpture
can you tell which pictures were taken with an iphone?? haha